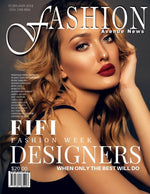 NALEBE BY AMINA MEANS IS FEATURED IN LUXURY FASHION MAGAZINE AS DESIGNER TO WATCH OUT FOR – FASHION AVENUE NEWS
 Following a successful outing at New York Fashion Week, Designer Amina Means is featured as one to watch out for in 2019.
 Amina Means has quickly established herself as a master of color mixing, and this Classy girl look book collection is no different — one only has to see the Color Hues and totally fall in love with the creativity behind the brand
 Taking the fashion industry by storm, AM Solemates made it debut on the Runway by been featured with two clothing designers. LadyCatFashion designer Alexandra Nyman praises the shoe designer and says the Shoes were a good compliment to her show.
Whilst we cannot stop drooling over the 3D dress designs that were displayed on the runway, we're excited that she gave us an opportunity to showcase – Amina Means
"The Luxe Femme" has been voted as a Fashionista Favorite and it comes in Crimson, Grey, Green and Red features a sleek large luxurious jewelry on the front with customizable heels from 120mm. This style is so easy to transition from Day to Night.
I particularly love this style because it so Chic and transitional, It can take you straight from Boardroom meetings to drinks with your girls says Amina Means.
Gearing up for Paris and Milan Fashion week, Designer Amina Means says there is no stopping her as there is so much more, she has planned for the fashion world.
We'll be here on a lookout for what's next in the home of AM Solemates.