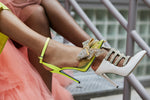 Amina Means has always loved heels. But it wasn't until she sprained her ankle that the Nigerian-American shoe designer found her true calling in the footwear industry.
After almost three years of not being able to wear the shoes she loved, Means decided to take her infatuation with heels to the next level: She endeavored to make them both stylish and more comfortable. With a background in interior design and an entrepreneurial spirit, she started to work with a network of stylists and designers under the moniker AMSolemates in 2018. Within a year, Means' shoes were picked up by stars such as '90s hit-maker Cece Peniston, who wore a pair of heels during the performance of her chart-topping song "Finally" at the 2019 BET Awards
"I thought, this is something I really need to be doing. I feel like there is a clientele looking for something beautiful, but very comfortable," said Means on launching the line.
With a fast-growing list of clientele that includes actresses Dascha Polanco and Peyton List, Means decided to switch her brand's name to Nalebe Official this year to pay tribute to her Nigerian roots in tandem with the label's success.
"Coming from African heritage, it was important for me to highlight [that] in my brand," said Means. "Nalebe is a combination of the last two letters of my three names: Amina, NA, Omozele, LE, Iziegbe, BE."
Nalebe Official's ornate and colorful heels also show the designer weaving in hints of her Nigerian heritage: "I use a lot of colors because it is significant in my culture," said Means. "Each color has a special meaning and together they mean peace, unity
Aside from their glam factor — the heels are often embellished with stunning gems and sparkly studs — the shoes also feature a gel resin insole and slip-resistant outsole, a nod to Means' focus on comfort.
Means is serious about making Nalebe Official sustainable, too. The brand uses recycled leather from Italy to make its shoes for each collection.
"Most of what we use to create — even the models for the shoes — we try to reuse the materials and leather," she said. "That's always been our focus, trying to go towards sustainability."
Based in Oklahoma, Means travels frequently between Los Angeles and New York. She works with a team of 15 people across three locations. Even amidst a pandemic, the footwear designer has been traveling to keep on schedule for her Spring 2021 collection.
Read More on Footwear News -